With the passing of generations, trends come and go. And this applies to engagement trends. With younger generations of people joining the workforce, meeting planners now have to keep these groups in mind when executing their meetings. Here are a few ways that meeting planners can better engage younger attendees.
Technology
Technology and young people are parallel and have become synonymous with one another. However, technology is on an incremental path of growth, so researching and implementing the most effective technology is a full-time job in itself. As an example, with the advent of personal devices, the implementation of iPads or other tablet technology in meetings has become commonplace. iPad integration allows for higher engagement from your attendees. With this technology, attendees are available to interact with the presentation directly by asking questions to the presenter, saving and emailing slides, and participating in real-time polling. Another engaging technology that caters to younger audiences is social media walls, virtual reality booths, and other tech that can rev up your event.
Gamification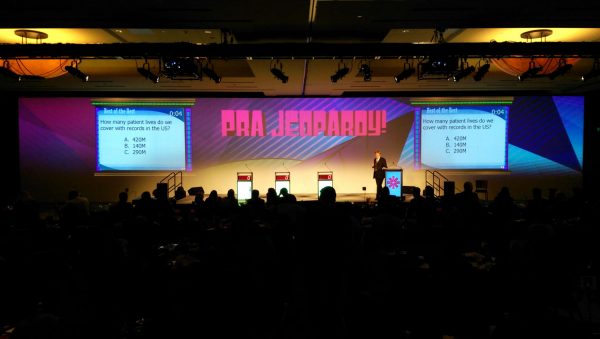 Now that it's established that technology goes hand-in-hand with younger attendees, the ability to "gamify" this technology to connect with younger attendees is more accessible than ever. This can be done in a variety of ways. One of them is by personalizing the applications used to poll the audience during a presentation or even adding incentives to people who respond correctly to a set of questions through the use of iPad technology. We've had success with implementing the themes of famous game shows to events in which attendees felt like they were actually at a live taping of Jeopardy.
Social Consciousness
According to Forbes, millennials prefer to do business and be associated with companies that do social good. So, it's a no-brainer that every company wants to begin adopting measures to change the way they do business and the way that they communicate all the good they're doing in their communities. Embracing the cause behind a social issue can be a polarizing thing to do for an organization, but nowadays, many companies with younger audiences can't afford to not embrace a cause. Younger generations see inaction as a negative action in itself and many organizations run the risk of further alienating their audiences by staying neutral in the face of social consciousness.
These are merely three suggestions in what is becoming an ever-expanding topic for many business professionals. However, meeting planners would be best-advised to follow closely how younger generations think and what they positively react or engage to. It can only help their events in the long run.