HYBRID EVENTS
We know you may spend months orchestrating an event – our Strategic Account Managers (SAMs) are your allies throughout this process. We're your sounding board for early ideas. We help conceptualize your scenic and lighting design through room diagrams, renderings, and stage mockups. We get you the right AV gear to support your messaging. We make sure your vision is understood and executed by our creative and technical teams.
Our SAMs take each phase of production seriously to ensure that you have a cohesive and rewarding experience with us from start to finish.
HYBRID EVENTS REIMAGINED
Designing the in-person side of a hybrid event can be very different from other face-to-face AV productions. Our experienced and dedicated innoVia team integrates seamlessly with client organizations to deliver a successful and engaging event for any audience.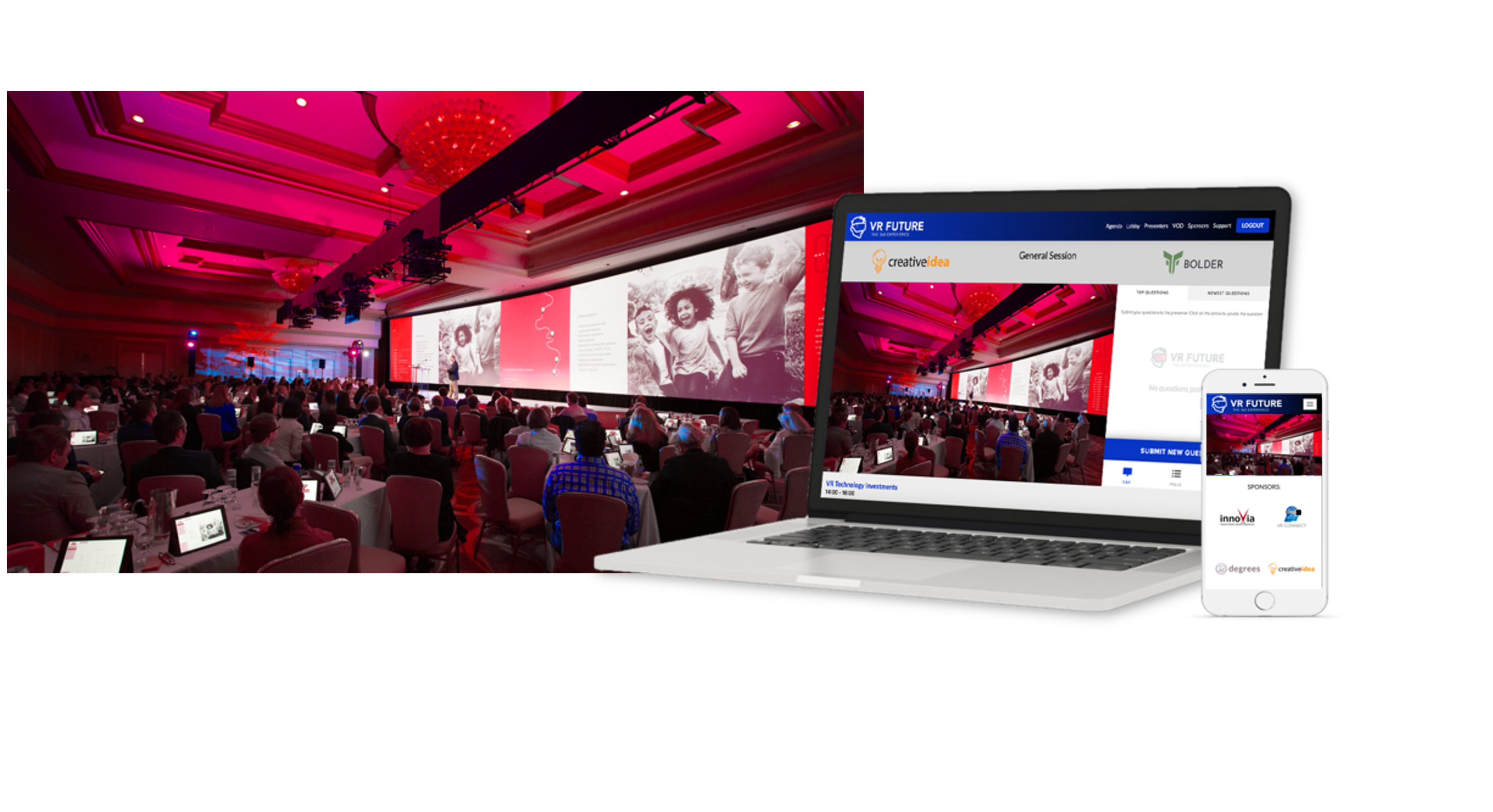 Full Onsite Production Services
Dedicated Full-Service Virtual Event Producers
Attendee Self Registration & 3rd Party System Integration
Live Streaming & Video-On-Demand Viewing
Production of General Sessions, Breakouts, VODs, and Interactive
Multi-Language Translation & Closed-Captioning Support
Interactive Tools: Chat Lounge, Moderated Chat, Q&A, Polling
Networking & Social Engagements
Sponsor & Exhibitor Spotlight and Event ROI
Virtual Exhibit Booths & Gamification
Event Theme Design & Collateral
Stage Design & Installation
Reporting & Analytics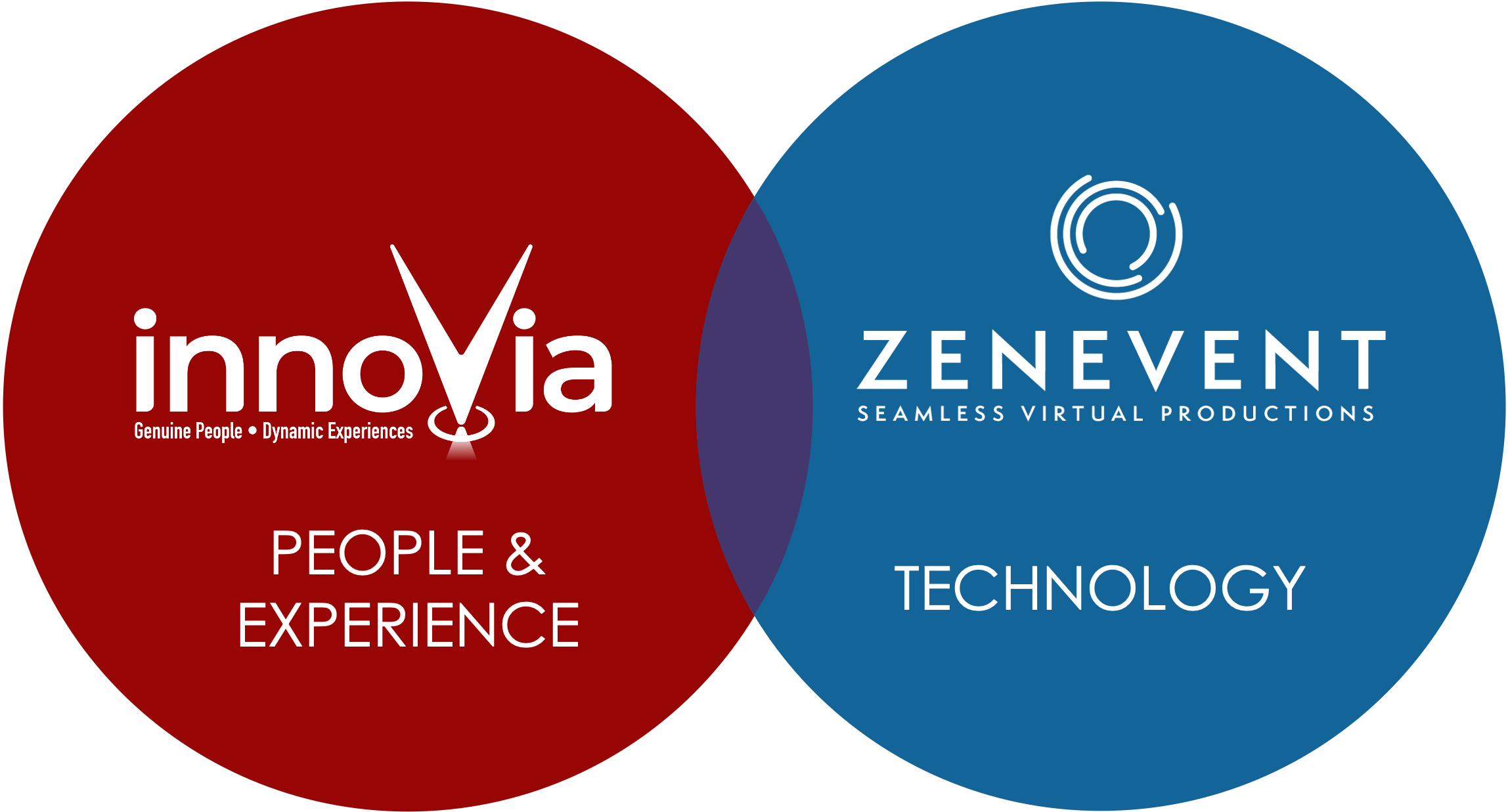 PAIRED TOGETHER FOR A SEAMLESS & STREAMLINED PROCESS
One-stop-shop: in-person and virtual teams working as one
Our team partners with the venue and, in consultation with you, the client, creates a unique brand experience that delivers results
We provide engagement by bringing attendees together via virtual or in-person networking and interactive tools
With no borders, we have the flexibility to choose what works best for attendees to join the event from anywhere in the world and on any device
VIRTUAL & HYBRID SOLUTIONS
Our full service virtual and hybrid event solutions offer top-of-the-line tools and dedicated customer support to make your event as seamless and hussle-free as possible. Choose from the offerings* below and let us customize your quote to make your next event a success.
*The below ranges are ballparks of what you can expect to pay for an event and will vary based on the package, functionality, and any add-ons selected.
VIRTUAL EVENT
Private & Secure
Responsive/Participate on Any Device
Attendee Self Registration, Registration List, External Registration System Integration
Speaker Management, Self-Serve Speaker Setup
Dedicated Full-Service Virtual Event Producers & Hands-On Tech Support
Production of General Sessions, Breakouts, VODs
Highly Scalable – Up to 50,000+
Multi Language Translation, CC Support, Simultaneous Interpretation
Sponsorship Opportunities, Driving Sponsor Revenue & ROI
Virtual Exhibitor Booths with Self-Serve Booth Setup, Exhibitor ROI
Leaderboard & Gamification
Networking Roulette, Chat Lounge, Moderated Chat, Q&A & Polling
Advanced Whiteboard Functionality
Lead Retrieval, Reporting & Analytics
Creative Services Add-Ons
Remote Presenter Kit Add-On
HYBRID EVENT
All Virtual Event Features
Hybrid Integration
Hybrid Event Technology
Virtual Production Switching
Event Production Services
Event Crew
On-Site Event Management
Audio & Video Technicians
Technical Direction
Venue Logistics
Scenic & Stage Design
Event Layout Options & Diagrams
Signage Design & Installation
Backdrops Options
Creative Services Add-Ons
Motion Graphics
Professional Event Videography & Photography
Remote Presenter Kit Add-On
Event Apps
Event Wi-Fi
WEBINAR
Private & Secure
Registration Management
Branded Forms & Emails
Branded Event Page
Broadcast Branded Graphics
Participate on Any Device
Professional Switching
Live Stream Technicians
HD Video & Audio for Live Video Panelists
Recording & Archiving for Future Viewing
Translation & Captions
Simultaneous Interpretation Integration
International Local Phone & Toll-Free Numbers
Private & Public Chat
Polling & Audience Engagement
Q&A for Attendees to Interact
Creative Services Add-Ons
Remote Presenter Kit Add-On
Reporting & Analytics